Photos - Dimanche à la Race of Champions
Retrouvez les plus belles photos de la journée de dimanche à la Race of Champions. Benito Guerra a battu Loïc Duval en finale et s'est adjugé le titre de Champion de la compétition, succédant ainsi à David Coulthard.
Cliquez sur les flèches de part et d'autre de chaque photo pour passer à la suivante.
Tom Kristensen, Helio Castroneves
Photo de: Race of Champions
Sebastian Vettel, Pierre Gasly
Photo de: Race of Champions
Sebastian Vettel
Photo de: Race of Champions
Sebastian Vettel
Photo de: Race of Champions
Loic Duval, Pierre Gasly
Photo de: Race of Champions
Le vestiaire des pilotes
Photo de: Race of Champions
Les casques des pilotes
Photo de: Race of Champions
Le casque de Ryan Hunter-Reay
Photo de: Race of Champions
L'hommage à Michael Schumacher
Photo de: Race of Champions
Le briefing des pilotes
Photo de: Race of Champions
Le show de Terry Grant
Photo de: Race of Champions
Esteban Gutierrez
Photo de: Race of Champions
Fredrik Johnsson parle aux pilotes
Photo de: Race of Champions
Helio Castroneves, VUHL 05 ROC Edition 2019
Photo de: Race of Champions
Enzo Bonito et James Baldwin
Photo de: Race of Champions
David Coulthard
Photo de: Race of Champions
David Coulthard, Tom Kristensen, SPEED XX UTV
Photo de: Race of Champions
Johan Kristoffersson, Ariel Atom Cup
Photo de: Race of Champions
Johan Kristoffersson
Photo de: Race of Champions
L'hommage à Michael Schumacher
Photo de: Race of Champions
Le casque de Sebastian Vettel
Photo de: Race of Champions
Josef Newgarden, KTM X-Bow Comp R
Photo de: Race of Champions
Loic Duval, Tom Kristensen
Photo de: Race of Champions
Le vainqueur Benito Guerra (MEX) sur le podium
Photo de: Race of Champions
Le vainqueur Benito Guerra (MEX) sur le podium
Photo de: Race of Champions
Le vainqueur Benito Guerra (MEX) sur le podium
Photo de: Race of Champions
Le show de Terry Grant
Photo de: Race of Champions
Loic Duval fête la victoire dans sa manche qualificative
Photo de: Race of Champions
Lucas di Grassi
Photo de: Race of Champions
Loic Duval, VUHL 05 ROC Edition 2019
Photo de: Race of Champions
Mick Schumacher et Esteban Gutierrez
Photo de: Race of Champions
Mick Schumacher celebrates winning in the qualifying round
Photo de: Race of Champions
Mick Schumacher, KTM X-Bow Comp R
Photo de: Race of Champions
Mick Schumacher, Benito Guerra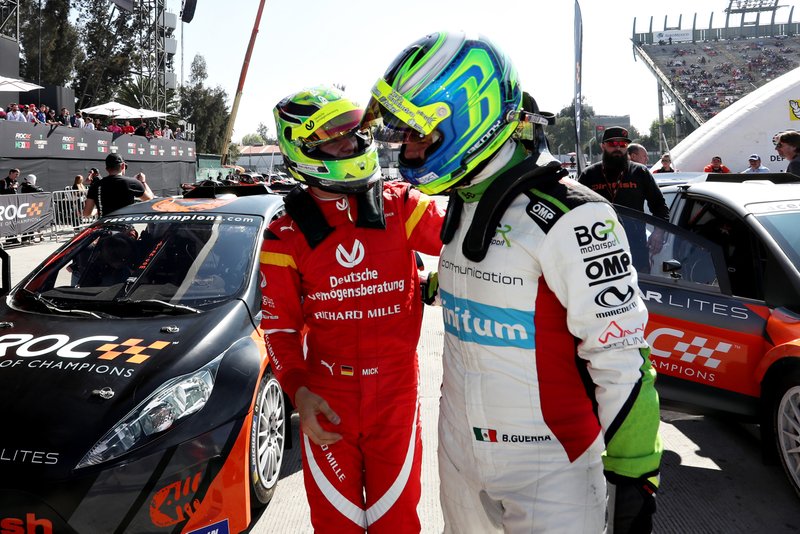 Photo de: Race of Champions
Sebastian Vettel
Photo de: Race of Champions
Ryan Hunter-Reay, Mick Schumacher, Tom Kristensen
Photo de: Race of Champions
Lucas di Grassi, Tom Kristensen
Photo de: Race of Champions
Mick Schumacher, KTM X-Bow Comp R
Photo de: Race of Champions
Johan Kristoffersson, KTM X-Bow Comp R
Photo de: Race of Champions
Johan Kristoffersson, RX Supercar Lite
Photo de: Race of Champions
Esteban Gutierrez (MEX) fête une victoire
Photo de: Race of Champions
David Coulthard, Mick Schumacher
Photo de: Race of Champions
Loic Duval , ROC Car
Photo de: Race of Champions
Loic Duval, Helio Castroneves, VUHL 05 ROC Edition 2019
Photo de: Race of Champions
La zone des changements de voitures
Photo de: Race of Champions
Josef Newgarden, ROC Car
Photo de: Race of Champions
Fredrik Johnsson parle aux pilotes
Photo de: Race of Champions
Pierre Gasly, Benito Guerra
Photo de: Race of Champions
Pierre Gasly, Loic Duval
Photo de: Race of Champions
Ryan Hunter-Reay, RX Supercar Lite
Photo de: Race of Champions
Sebastian Vettel, VUHL 05 ROC Edition 2019
Photo de: Race of Champions
Mick Schumacher, Pierre Gasly
Photo de: Race of Champions
Be first to get
breaking news